We don't use cheap copies or homemade alternatives. All our dance floor use locking systems that are industry leading and guaranteed not to come apart during use. In fact its unique design means the more weight and people that are on the dance floor makes it even more secure.
All our dance floor hires come complete with our aluminium edging for a smooth profession finish.We offer many different sizes of floors to suit everyone's venue.
We offer 3 main types of dance floor:


Parquet Dance Floor (wooden style)
Black & White Dance Floor
Starlit Dance Floor (White floor with LED's)
Please contact us for your free quote and to discuss all your needs. Our team will setup and collect the dancefloor.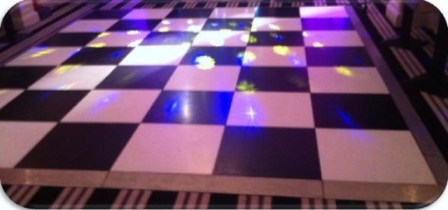 01452 881876
Email: Major.Events@btinternet.com